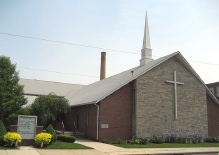 phone: 814/643-5310 email: office@huntingdoncma.org
We are a church seeking to know our Lord and Savior Jesus Christ better each day, and to make Him known to a world in need of hope. We'd love for you to join us in the adventure of living for God.We have a great God, and we pray His blessings to you today! Living the Calling Together! Matthew 28:19 If you can't find the info. you are looking for on our site, or if you would just like to talk to someone, please call or stop by. We'd love to meet you!
Coming Soon…
Annual Missions Conference
Sunday, October 9– Sunday, October 16
This year's theme, "Prepare the way for the Lord," based on Luke 3:4–6, reveals how God is on the move in our world, making a way for overlooked and isolated peoples to come to Him. He is inviting us to join Him in "preparing a way" so that ALL will see His salvation.